Well, here's about where it all began with the Hendricks Brothers. That's Allen on the right, always the strong older brother looking out for his little brother Monte. It has been this way ever since. The only thing that could make this photo any better would be them standing about waist deep in banjos!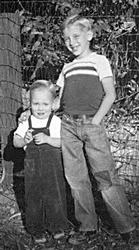 Here's a treasured family photo that illustrates that a love of music and musical instruments runs deep and strong in the Brother's heritage. The guitar picker is their Dad, Edd Hendricks, and helping him with the left hand fingering is his twin brother, Jim. The fiddler is their Uncle Leslie Hendricks. The fellow working out the banjo fingerboard is their Uncle Joe Hendricks. Their Dad's cousin, Ken Hendricks rounds out the Hendricks Family Band on 28 August 1935.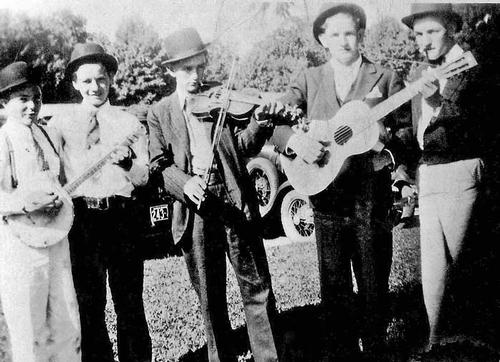 Allen & Monte starting picking banjo when they were boys. Allen has always been the performer in the family but every so often he gives Monte permission to join him on stage for a song or two, as this photo shows. Their interest in banjo construction and design comes in the most honest way – they are banjo players!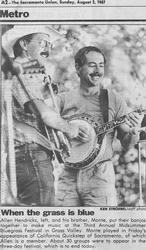 Here's where it all comes together. Rick Sims (he's on the left) is one of the finest old time banjo pickers you'd ever want to hear. Monte and Rick are holding Rick's old Vega big pot tubaphone with a new Hendricks reproduction 5-string neck. Allen's in the middle. We tried to get a similar photo when Rick picked up his new Hendricks Openback Banjo but he would not stop playing it to pose for a picture! He's probably still playing it right now!